Sales: Plants & Seeds
Current Year
ARHS Seed Exchange 2022
The 2022 Seed Exchange is now open. Sharon Bryson has prepared a list and will keep availability updated on the Willow Garden website. You can also retrieve the order form from her site as well.
Details on ordering and seed exchange lists
ARHS Members Pre-ordered Plant Sale 2022
PLANT DESCRIPTIONS – ARHS ADVANCE PLANT SALE 2022 (1)
Order Form – ARHS Plant Sale 2022 (1)
Only ARHS members whose dues are paid for the current year may order from following list.
If you are unsure of your membership status, please contact Rebecca Lancaster, arhsmembership@gmail.com
Order deadline, April 6, 2022 by the end of the day, no extension. These selections are now sold out.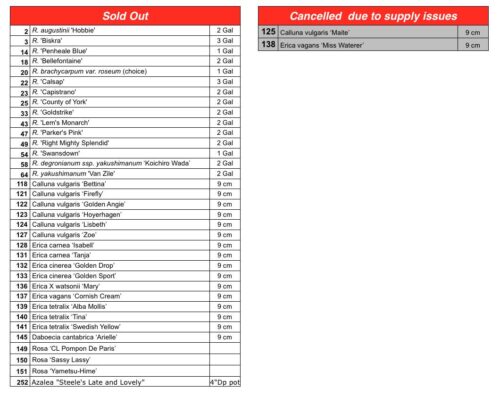 Do not send payment with your order form. Payment is on plant pick up date. You may order more than one plant per variety. However, plants will be allocated in the order in which members' order forms are received, on the basis of one plant per variety per membership. After this allocation, any surplus will be divided amongst multiple orders.
Please email your completed form to: arhs2022sale@gmail.com
or mail 1 week (March 30) before deadline to: Dennis Crouse at 232 Boutiliers Point Rd, Boutiliers Point, N.S., B3Z 1V1. (For both mail and email orders, please use the order form provided).
Pick-up for pre-ordered Plant Sale, Saturday, May 7, 2022 from 10AM till noon at Donna and Duff Evers, 10 Sime Court, Kingswood Subdivision, Hammonds Plains.
*Plants are to be paid for when they are picked up. Payment by cheque or interac-e transfer is preferred, but cash
will of course be accepted. Do not send payment with your order form. Plants will not be shipped. If you are unable
to pick up your plants on this day, please arrange to have someone pick them up for you with payment.
ARHS Tissue Culture Sale
TBA
Seed lists from previous years
Plants offered at previous years